What We Offer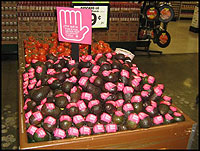 Produce Stickers
National In-Store Media partners with various retail establishments to create a cost-effective platform for reaching targeted consumers in select neighborhoods. We can tailor programs geographically by market, zip codes or ethnic audience.
Posters, framed or unframed, are positioned near the entrance to the store there by reaching both patrons and local traffic. All locations are monitored on a two-week basis guaranteeing proper maintenance of each campaign.
With our customized programs, advertisers can reach targeted consumers in their neighborhoods and in their language of choice. National and local programs can be structured either demographically or ethnically. NINS simplifies reaching markets for both advertisers and their agencies by offering a turnkey program.
Our services include:
One Sheet Posters
Distribution of brochures, coupons or take ones with or without poster placement
Placement of Static Cling Decals in windows, restrooms or beverage coolers
Produce Sticker placement
Vinyl Floor Graphics
Window Stickers


All alternative in-store campaigns can be customized to each clients' specifications